GUEST SPEAKER
Dukas Presenting at M.I.T. In Boston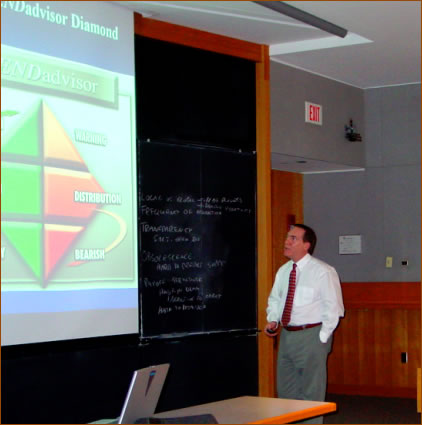 With over 25 years experience trading, Chuck Dukas is committed to assisting individual investors and institutions and helping them win in today's financial markets. A leader in the development of trading systems and technical analysis for profiting in the market, the "TRENDadvisor Diamond" provides absolute visibility for online stock trading.
Guest Speaker
Are you looking for a guest speaker for your next event or do you require technical training for your team? Call us today @ (980) 422-1234 or email me directly chuck@TRENDadvisor.com
---
Experience
With over 25 years of experience,we are committed. A leader in the development of algorithms for profiting in any market enviornment, TRENDadvisor's clients include high net worth investors, hedge-funds and institutions.
Are you looking to consistently harvest profits, using sound money management, while preserving capital then call us today @ (980) 422-1234
In addition to publishing his own book, Dukas is a featured contributor to Bloomberg, Investor's Business Daily and Stocks & Commodities Magazine radio and TV.